Research
Atelier-based Learning
Although Synthesis creates knowledge through making, this is not a place for individuals to produce individual works of art, nor for hackers to tinker with with the latest round of technology. We work with partner studios and labs for such work. Synthesis is a place for thinking through the collective making of events, varied experimentally and reproducibly by computational means. A responsive environment should not make statements, nor should it make spectators.
Synthesis researchers draw from diverse disciplines in the humanities, engineering and the arts to blend knowledge and know-how to find meaningful ways of animating the worlds in which we live and play. In particular, we use techniques from responsive environments, time-based media, experiential science, and non-anthropocentric design theory.
We offer affiliates at any level of experience the chance to associate with other expert and talented people and be enriched with techniques, but most importantly with approaches, tactics of experiment backed by as much studied knowledge as we can offer through our seminars, teas, and walks. We use whatever techniques make the most compelling experience for the minimum engineering overhead: realtime media instruments, custom objects, event structures, reading and writing, movement.
A responsive environment should not make statements, nor should it make spectators.
Featured Projects
Research Streams
Experiential Science
In this stream we study how people can directly and palpably tinker with or steer the most complex scientific simulations to learn about the world. We leverage 15 years of pioneering work with realtime gestural media and responsive environments to create scientific tools, instruments and whole immersive environments that let inhabitants steer otherwise inaccessibly complex models via embodied interaction and rich media feedback in realtime. Our guiding assumption is that these techniques combined with rich narrative tools greatly speed and scale up the generation of hypotheses and theories for testing with advanced (and expensive) instrumentation. This will reduce the cost of conducting big science and also provide a play space for creating alternate imaginaries. The Atmosphere and Place residency kicked off the development of a prototype system that allows a person to corporeally engage with a computational model of fluid dynamics used to approximate a layer of atmospheric activity, showcased in the 2015 Conference on Complex Systems.
Movement and Change
We extend state of the art work with movement and time-based media to explore how the sense of dynamic, change, and rhythm shapes and intertwines the processes of life, city, industry, with processes of nature at multiple time scales. We will contribute to urban design and the resilience of future cities across the globe. We compare temporal phenomena via notions of rhythm as a way for people with otherwise incommensurate vocabularies and methods to compare insights about movement and change in experiential, built and natural environments, phenomena for which we lack neat theories.
Network
Ecology of Practices Research Network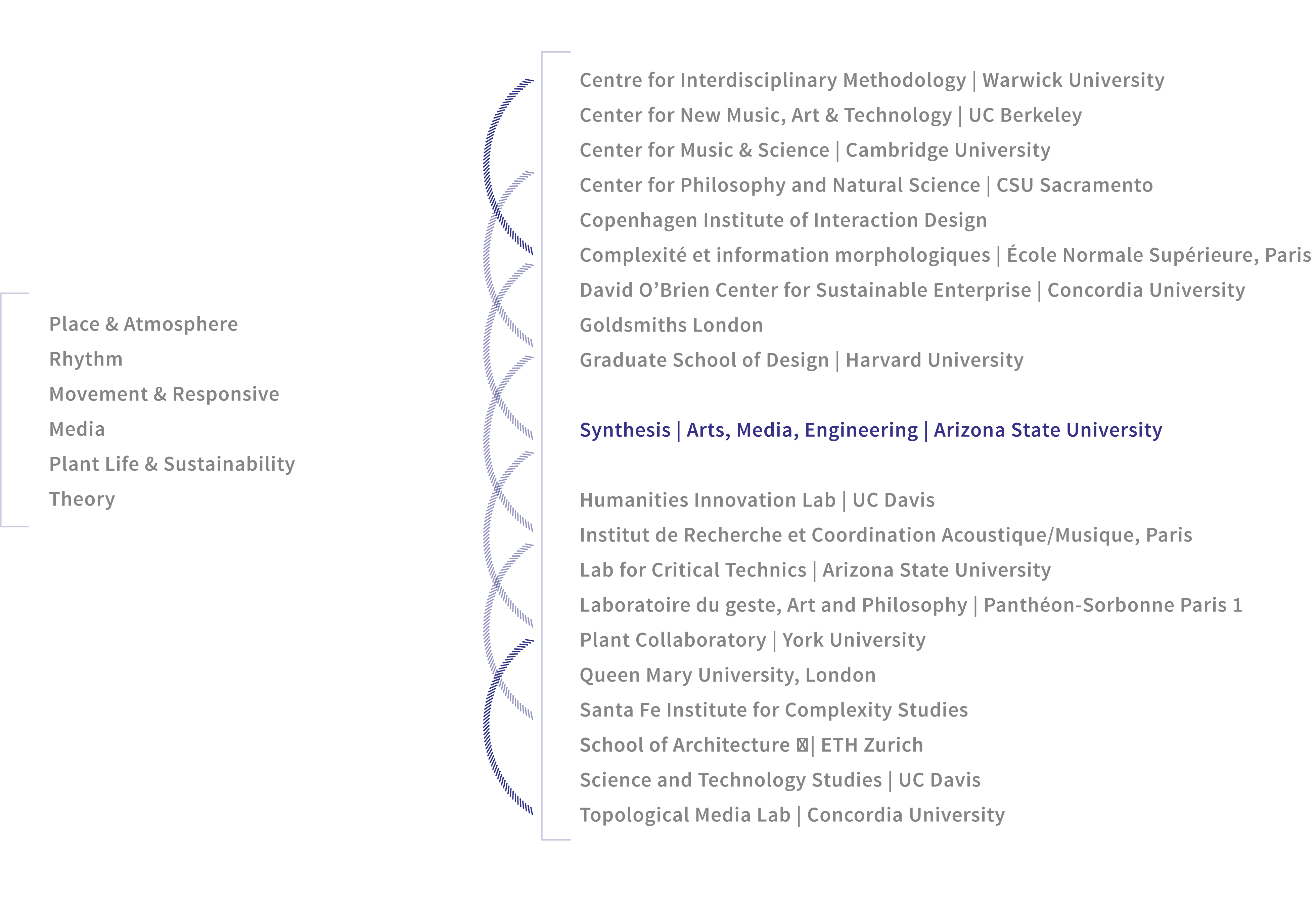 Disciplinary Fusion
Transforming Research–Creation
Synthesis' chief mission the first year was to adapt a Canadian research-creation culture into a knowledge enterprise suitable for the New American University. Most of our activities focused on transitioning practices from Dr. Sha's Topological Media Lab (2001-2014), developing a community of students and researchers in which such practices can successfully evolve into a new means for disciplinary fusion.
Hosting Research Clusters
Synthesis hosted a series of residencies that applied cutting-edge artistic methods to use-inspired research problems. Two (Lighting and Rhythm and Improvisational Environments) were used to explore how theatrical-grade digital technology can be used to augment (or enchant) quotidian spaces, and two (Atmosphere and Place and Heartbeat) applied digital technology and artistic methods to invent fresh, compelling and rigorous ways of engaging fundamental questions about lived experience. Each residency served as a means for introducing the ethos and methods of research-creation to a team of American scholars with whom we will develop projects next year.
Cultivating Synthesis
In order for disciplines to fuse, their practitioners must mingle well. Dr. Sha has worked for the past 20 years with over 120 makers – artists, theorists, engineers – to develop a working ethos for people from radically different traditions to blend methods to generate fresh knowledge and technology, motivated by fundamental problems and propositions that transcend the frames of particular disciplines. At present this blending is best structured as a series of project streams organized around major themes that inspire disciplinary fusion.