Research
Connectivity Café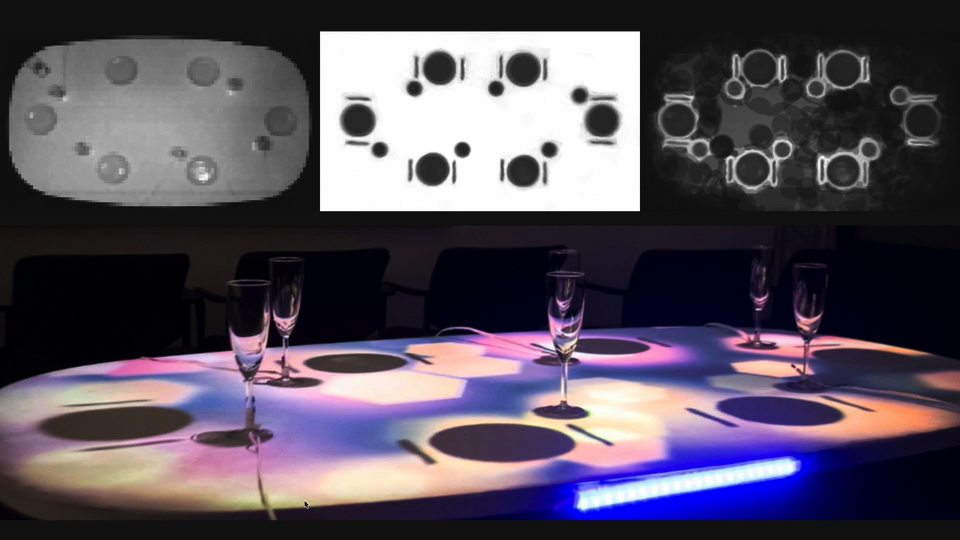 Concept

The purpose of Connectivity Cafe is to explore a poetic means of expression through an enchanted multi-sensory dining and drinking experience. We seek to extend this local expression to the global domain. This immersive and interactive space augments human perception and allows for "enchanted" expressions with everyday utensils. This interplay of participants and objects is a "theater of things" in which seemingly benign performances affect social interactions to promote creative intimacy in a poetic atmosphere.
Connectivity Cafe video presentation by S. Barua for EASST 4S 2020 from Synthesis Center on Vimeo (password "Synthesis".)
The broader aspiration is to build a bridge for global communication and to enable people who may start out as strangers to cultivate meaningful relationships and friendships, even across great distances, using everyday objects and materials.
The creation of dramatic and theoretical social frameworks is at the center of our research. We work with multiple immersion methods, such as workshop environments, food events, enculturation, and ritual, to challenge and advance current ideas of habitual and expressive actions in different contexts. The goal is to transform the isolation and exclusivity that is often caused by new media, and to answer such questions as What artistic expressions are possible in a ritual context?
Connectivity Café Project leverages ASU's growing footprint around the globe, while meeting the need to enrich connectivity and creative interaction between people across time zones and cultural boundaries. It proposes to link cultures within the context of a meal or a coffee date.  We plan to connect café tables in different cities with attractively designed portals.
The cafe "booths" will use state-of-the-art technologies to stream a live, shared experience that allows the communities that surround ASU's various locations to participate in the rituals that are traditionally associated with "breaking bread."  In other words, a person in Tempe or Mesa might have a meal with a person located in Montreal and Los Angeles, and share that experience in real time, as if they really were actually sitting at the same table.  We expect our sensing and realtime media are sensitive enough to allow a virtual "toast" to occur across the time zones, complete with at the sound of clinking glass.
This project is in its infancy, and while many questions of scale, timeline and physical location must still be answered, our vision includes contracting chefs to design a rotating menu featuring iconic dishes from each city, and work with Synthesis to create interactive media that catalyze engagement.  While food serves as the commons, Synthesis' real-time media instruments can, when appropriate, mediate gesture and speech.
We envision that these cafes will catalyze richer exchange across continents and cultures.
Team
Sha Xin Wei: Advising Director | Synthesis
Christy Spackman: Advising Co-Director | AME, School of Future of Innovation and Society
Yanjun Lyu: Interaction Design | AME, Synthesis
Shomit Barua: Environmental Design | Synthesis
Ri Lindegren: Movement Research | School of Film Dance and Theatre, Synthesis
Assegid Kidane: Technical Support | AME
Leslie L. Smith: Past Advising Director | AME, Synthesis