Event
February 14, 2018 ―
March 3, 2018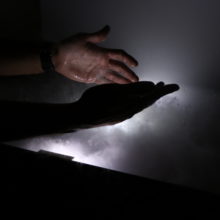 Atmospheres Workshop Residency 2018
About
In this Synthesis Atmospheres Residency (LRR), researchers and students from University of Potsdam, the Topological Media Lab in Montreal and the Schools of Arts, Media + Engineering, Geography, and Architecture at ASU, come together in the Matthews Center iStage @ ASU (Tempe USA campus) to create environmental conditionings of ensemble experience via varying fields of media and material.
Wind, temperature, clouds, mist – these phenomena have in common that they can hardly be objectified. They have no identifiable parts or clear dimensions, no form and are partly or completely invisible. But we do experience their dynamic presence through our bodies: the body's sensitivity on cellular, organic, and organismic levels, allows for engagement with phenomena that go beyond subject/object dichotomies. Instead of producing an audience as a mere spectator, we provide liminal experiences, in including the full sensorium such through touch, smell, proprioception (senses we share with non-human animals as well) through engagement with normally invisible – or not primarily visual – phenomena.
When & Where
Visitors will be with us from 14th February – 3rd March 2018. While there will be no demonstrations or shows during this time, we encourage all to come visit us in Matthews Center, iStage (222 + 224) to meet our residents.
For more information, please visit our research site here.